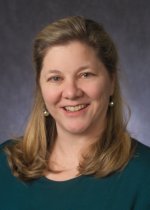 Carla Sappenfield, OD
Hampton Roads Optometry
Dr. Carla Sappenfield joined Hampton Roads Eye Associates in 1993. Her clinical experiences have been diverse, including contact lens work, behavioral optometry, vision therapy, and primary care optometry. She has also played a role in the education and training of technical personnel.
Dr. Sappenfield received her Bachelor of Science degree in Biology from the University of North Carolina at Chapel Hill. She continued her education at the Pennsylvania College of Optometry, where she earned both a Bachelor of Science Degree and her Doctorate in Optometry.
Dr. Sappenfield is a member of the American Optometric Association, the Tidewater Optometric Society, the Virginia Optometric Association and the Southern Council of Optometrists. In addition, she is a Fellow of the Virginia Academy of Optometry. Her primary field of practice now focuses on contact lens fittings and complete eye health examinations. She is a valuable asset and member of the Hampton Roads Eye Associates team.
Education & Training
B.S. University of North Carolina, Chapel Hill, NC
B.S. Pennsylvania College of Optometry, Philadelphia, PA
O.D. Pennsylvania College of Optometry, Philadelphia, PA